Golf in Toronto
Few golf course we like to recommend you:
Eagles nest  (Toronto)
10,000 Dufferin St.
P.O. Box 403
Maple, Ont., L6A 1S3

Tel: 905-417-2300
Fax: 905-417-0525
Web: www.eaglesnestgolf.com
Visit our club for beautiful combination of great golf courses inspired by nature and style that will give you great golf experience. Here you can find great layout that is made by one of the best Canada's course architect Doug Carrick. You will find rolling fairways, fescue covered dunes, sod wall bunkers, vast waste areas, and clinging rough. Also you can play a set that best suit you. Visit us and see what Eagles Nest is offering.


Green Fee Rates:
May 23rd- September 30th
Monday thru Friday - $195.00
Weekends and Holidays -
Before 10am - $195.00
10am - 2pm - $145.00
After 2pm - $120.00
October 1st - October 21st
Monday thru Friday - $145.00

Golf in Toronto
Bigwin Island Golf Club
1137 Old Hwy 117,
Baysville, Ontario
P0B1A0
Tel: 705-635-CLUB(2582) or 800-840-4036
Web: www.bigwinisland.com
The Bigwin Island Golf Club has been designed to capture the elegance of the original resort known as the "Bigwin Inn". Here you will find sweeping fairways that drape naturally over the rugged Muskoka terrain, and exposing glorious lake vistas at every turn.
The course itself is a par 72 championship layout measuring 7,166 yards from the championship tees. The course is designed to provide challenge and enjoyment to golfers of all skill levels with a variety of tee locations. Each nine is a par 36 consisting of two par threes, two par fives and five par fours.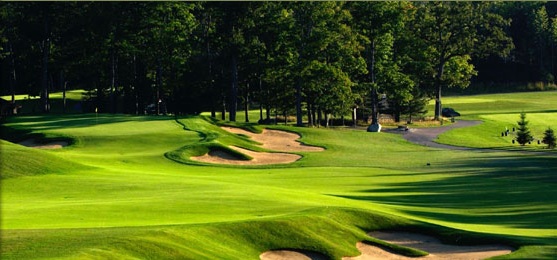 PUBLIC GOLF RATES 2012
May 14 – May 31 - $160.00 (Monday to Sunday)
June 1 – June 30 - $170.00 (Monday to Sunday)
September 4 – September 30 - $200.00 (Monday to Sunday)
October 1 – October 14 - $160.00 (Monday to Sunday)
Angus Glen
10080 Kennedy Road
Markham, Ontario, Canada
L6C 1N9

Tel: 905-887-0090
Fax: 905-887-9424
Web: www.angusglen.com

Golfing in Angus Glen Club will bring you best variety of beauty, challenge and first-class service. We are public Golf Club that is known for hosting of PGA Tour events. Our courtes are known as the same fairways where the world's best golfers have competed on.
In 2002 Canadian Open on South Course John Rollins defeated Justin Leonard and Neal Lancaster in an exciting sudden death playoff.
Capturing the title for the second consecutive year Jim Furyk out duelled Vijay Singh on the North Course to win the 2007 Canadian Open.
Angus Glen hole 03
Angus Glen hole 07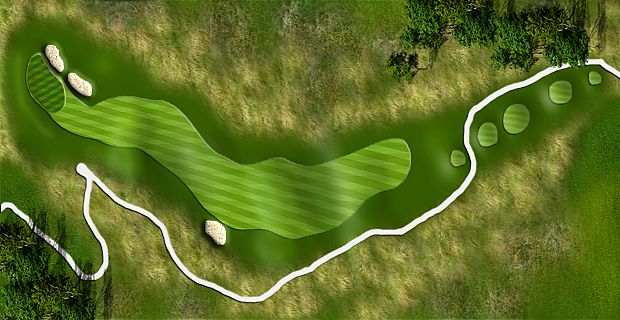 Prime Season Rates:
May 12th through October 2nd
Monday - Friday - $180
Weekends - $135

Fall Rates:
October 3rd through Season Close - $125
Copper Creek
11191 Highway #27
P.O. Box 796
Kleinburg ON
L0J 1C0
Tel: 905.893.3370
Fax: 905.893.0443
Web:www.coppercreek.ca
Set amid the rolling hills and forests of the Humber River Valley, our Championship Golf Course takes full advantage of its beautiful location in Kleinburg, Ontario. Designed by renowned Canadian Architect Doug Carrick, Copper Creek is one of the top daily fee courses in the GTA. Our 40,000 square foot clubhouse, perched atop the Humber River Valley is complete with every amenity imaginable. Everything about Copper Creek is done with one thing in mind – to ensure your day is a picture of perfection.
May 14 thru September 30
Monday to Friday - $175
Weekends and Holidays
before 11am - $150
after 11am - $125
October 1 thru October 31 - $125
Wooden Sticks
40 Elgin Park Drive
Uxbridge, Ontario
L9P 1N2
P.O. Box 848
Phone: (905) 852-4379
Fax: 905-852-4315
Web: www.woodensticks.com
Wooden Sticks offers best golfing in Ontario golf market. Wooden Sticks has mixed some of the most recognizable golf landscapes from the PGA and sculpted them into the spectacular scenery with 18 holes. Play golf holes inspired by Augusta, St. Andrews, Pine Valley, Carnoustie, TPC Sawgrass, and Oakmont. Green Fees Include: 18 holes of golf, shared power cart, use of the practice facilities (driving range, putting, chipping greens) and two meals (one meal before the round, one after). Tee times may be booked four weeks in advance from the date of play, unless otherwise specified.


2012 REGULAR GREEN FEE RATES
Saturday/Sunday/Holiday Monday
Before 11:00 am / After 2:00 pm - $145.00
11:00 am / 2:00 pm - $160.00
Monday - Friday
Before 11:00 am / After 2:00 pm - $185.00
11:00 am / 2:00 pm - $200.00
The Ridge at Manitou

Contact Us
"Management Team"
Drew Rachar BSC, AGR P.Ag.
General Manager & Course Superintendent
Club: 705.389.2552
Cell: 705.774.3605
Fax: 705.389.2687
Web: www.ridgeatmanitou.com

The Ridge at Manitou is surronded by the natural beauty of Georgian Bay country, our colf club is a place rich with traditions of golf and the pleasures of country club atmosphere. The Ridge Club is named the Best New Course by Golf Digest Magazine in 2006, the par 72 layout has four sets of tees from 4997 to 6815 yards creating challenge for all players levels of ablity. Located on Manitouwabing Lake, the Ridge is a golfers paradise playing through more than 300 acres with high rock ridges, forests, meadows, wetlands and tributaries.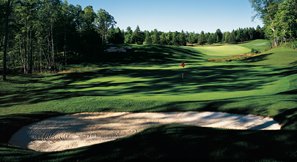 May 4 – June 14 & September 23 – October 8
Golf any day of the week for only $80
Twilight rate (after 2pm) $60
June 15 – September 22
Sunday to Thursday - $110
Friday & Saturday - $135
Twilight rate (any day of the week starting at 3pm) - $100
Cardinal Golf Club
GPS Coordinates: 44.034974, -79.568396
2740 Davis Drive West, (formerly Highway 9), Newmarket, Ontario , Canada L0G 1J0
Phone: 905.841.7378
Fax: 905.841.3511
Web: www.cardinalgolfclub.com
Cardinal Golf Club has earned the reputation as the most complete public golf club in the GTA and that keep doing for the past 23 years. With the opening of RedCrest in 2009 (Cardinal's NEWEST premium 18 hole championship course), Cardinal is now Canada's largest golf facility, with 72 holes of golf including: three 18 hole championship courses, an 18 hole executive course, large driving range, 18 hole mini-putt, C.P.G.A. staffed Golf Academy, and two unique Clubhouses.

WEEKDAYS :
REDCREST / before 3pm - $78
EAST WING & WEST WING / before 12pm - $53
KETTLE CREEK, 18 HOLES - $23
SEASON PASS - $3795
Royal Ashburn Golf Club

995 Myrtle Road West
Ashburn, Ontario, Canada
L0B 1A0
Tel: 905.686.1121
Fax: 905.655.3205
Email: info@royalashburngolfclub.com
Web: www.royalashburngolfclub.com
The Royal Ashburn Golf Club have well-guarded greens, several well placed ponds and the beautiful Lynde Creek. Natural setting and beauty of the golf course provide a wonderful golf experience.
We are ranked among the top 50 public golf courses in Canada and the number 1 ranked golf course in the Durham Region. We have five sets of tees to choose from, the golf course can be played from 5016 yards to 7075 yards and is sure to be challenging and enjoyable for players of all levels.
Summer Season Rates 2012
Regular Rates:
Monday / Thursday - $74.00, Friday - $79.00, Sat. Sun & Holidays - $84.00
Twilight Rates (after 2:00p.m. Weekdays & 1:00p.m. Weekends) :
Monday / Thursday - $64.00, Friday - $69.00, Sat. Sun & Holidays - $74.00
Golf in Toronto
Niagara region
Thundering Waters Golf Club
6000 Marineland Parkway (at Stanley Ave.)
Niagara Falls, Canada L2E 6X8
Phone: (905) 357-6000
Fax: (905) 357-6007
Toll Free: 1 (877) 833-DALY (3259)

Thundering Waters is John Daly's first "Signature" golf course in Canada, and was built to evoke the look, feel and play of an secluded, private club. It is 7,322 yards from the championship tees.
Thundering Waters features rolling greens, sculpted bunkers, meandering creeks, and expansive fairways, 7th longest hole in Canada with 661 yards measured, along with a mix of woodland, parkland, and heathland styles.
Summer Golf Rates May 30 - October 12
Sunday-Friday - $79.99 + taxes
Saturday - $99.99 + taxes

Twilight Rates (after 3pm)
Sunday-Friday - $51.99 + taxes
Saturday -$64.99 + taxes
Off-Season Golf Rates, 18-holes Advance Reservations: $64.99 + taxes
Royal Niagara Golf Club
One Niagara-on-the-Green Blvd.
Niagara-on-the-Lake, Ontario
L0S 1J0
Tel: (905) 685-9501
Fax: (905) 685-3909
Toll-free: 1-866-ROYAL-18
Email: info@royalniagara.com
Web: www.royalniagara.com

Royal Niagara have over 7,000 yards from the tips, the course features sculpted fairways, undulating greens, cavernous bunkers, and an abundance of water. Nestled between the historic 120-year-old Welland Canal, the beautiful Bruce Trail, and the Niagara Escarpment. Featured also three 9-hole courses, escarpment Course, Iron Bridge Course, and The Old Canal Course. Each 9 is balanced in terms of length and challenge. The result is three very unique 9-hole golf courses.
Greenfee 2012 Season:
Weekday - $55.00
Weekend - $70.00
Grand Niagara Golf Course
24 Grand Niagara Drive, Niagara Falls
1.866.607.4653 / 1.866.607.GOLF / 905.384.4653
Web: www.grandniagararesort.com
The course at Grand Niagara is classic Rees Jones. His fairway angles, positioning of hazards and exquisitely contoured greens demand intelligent course management, tempting players with a variety of risk-reward options. The course is a gentle 5,737 yards from the forward tees, and a daunting 7,425 yards from the championship tees. Playing each of the four set of tees entails a unique challenge.
(May 18 to Sept 30) Resident Rates:
Weekday - $75
Weekend - $85
(May 18 to Sept 30) Non-Resident Rates:
Weekday - $95
Weekend - $105
Niagara Parks Golf
Golf Reservations:
1-866-GOLF-NIA (1-866-465-3642)
Web:www.niagaraparksgolf.com
Legends on the Niagara Location:
9561 Niagara Parkway
Niagara Falls, ON L2E 6S6
Whirlpool Golf Course Location:
3351 Niagara Parkway
Niagara Falls, ON L2E 6S6
GREEN FEES 18-Holes
May 18 to Sept 30
Weekday - $85.00
Weekend - $100.00
November 1 - Close
Weekday - $50.00
Weekend - $50.00
Hunters Pointe Golf Course
289 Daimler Parkway
Welland, Ontario
L3B 6H2
T. 905.714.4659T
F. 905.714.4633
Web: www.hpgolf.ca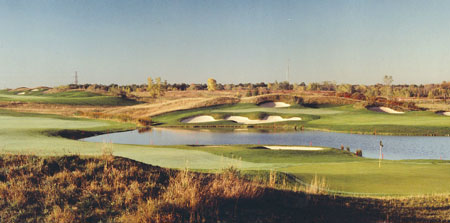 The course, built in 2000, is a rolling landscape of testy mounds, 110 bunkers, water, fescue and bentgrass with the occasional tree. Besides the pot bunkers, there are seven ponds to contend with and strong par-3s, including the 245-yard 8th hole. Accuracy is vital in playing Hunters Pointe. You need to keep your ball in the fairway in order to stay clear of the rough, the bunkers and the mounding.
Distances, ratings and slopes at Hunters Pointe:
Blue Tee Blocks: 7,016 yards (73.6/132)
White Tee Blocks: 6,385 yards (70.7/129)
Green Tee Blocks: 5,794 (74.1/133)
Red Tee Blocks: 5.319 (71.0/121)
2012 rates
Weekday Rate - $45
Weekend Rate - $49
After 2pm - $35
Peninsula Lakes Golf Club
Contact us:
TURF OPERATIONS
Terry Reece, CGSA
Course Superintendent
terryr@penlakes.com
905-892-8282
Web:penlakes.typepad.com/peninsula-lakes-golf-club
Each year more than fifteen million people visit the Niagara Region. It has always been one of the most popular vacation spots in the world. With the fabulous Horseshoe falls, historic Niagara-On-The Lake, world class family attractions, award winning wineries and of course wonderful golf, it has established itself as the premier golf destination in Canada!
2012 rates, 22May - 30Sep
Weekday Rate - $89
Weekend Rate - $99
Golf courses Muskoka Cottage Country
The Rock Golf Club
Golf Course Superintendent
Dan Stockdale
Direct Line: 705.765.0076
Fax: 705.765.0705
Web: www.therockgolf.com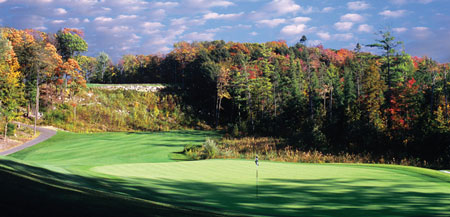 The Canadian Shield geography of the Muskoka area, with pine forests and sculptured granite make for a beautiful backdrop, creating some of the world's most challenging golf courses.
The Rock Golf Club offers great golf, but also boasts world class golf club amenities, including a lounge and a terrace with breathtaking views of the 1st and 18th holes.
June 1-30
Sunday-Thursday Open-Noon - $89
Afternoon 12-2:30 - $79
Twilight 2:30-Close - $69
July 1- Sept 30
Sunday-Thursday Open-Noon - $99
Afternoon 12-2:30 - $89
Twilight 3:30-Close - $79
The Lake Joseph Golf CLub
1072 Elgin House Road
Port Carling, ON P0B 1J0, Canada
Phone: 705-765-2000
Fax: 705-765-2032
Web: lakejoseph.clublink.ca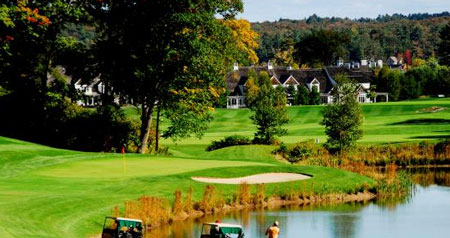 This Course was developed by architect Thomas McBroom that utilized the granite crags, towering trees and heaving topography of the incomparable Muskoka vacation region north of Toronto with success that the course was named the best new course in the country by Golf Digest.
You can see greenfee's in more detail on the club's web page.
Muskoka Bay Club
1217 North Muldrew Lake Road P.O.
Box 640. Gravenhurst, Ontario P1P 1T9
Toll Free 1-866-321-2004
Local 705-687-7900
Fax 705-687-0073
Web: www.muskokabayclub.com

Welcome to Muskoka Bay Club, a four season community. The crowning glory is the incredible 17,000 square foot Clifftop Clubhouse. Pristine lakes. Towering forests. Crystal clean air. Here you will find 18-hole championship golf course designed by Doug Carrick. Four season homes offer up to 3,300 square feet, set on deep wooded lots. The peace you've dreamed about, all just 90 minutes north of Toronto in Gravenhurst.
Spring Rates
May 1st - June 15th - $150
Summer Rates
June 16th - Sept 30th - $175
Fall Rates
Oct 3rd - Close - $150

Rocky Crest Golf Club
Hamer Bay Road RR #1
Mactier, ON P0C 1H0, Canada
Phone: 705-375-4688
Fax: 705-375-4690
Web: rockycrest.clublink.ca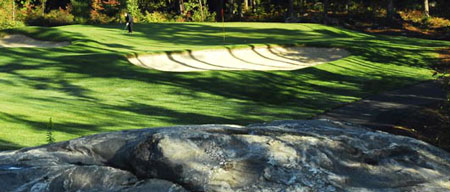 Rocky Crest was ranked number 20 of the top 100 courses by SCOREGolf Magazine in 2010 and third best course of the modern era in Canada by Golfweek. Framed by giant forests of pine, white birch and hemlock, the rolling fairways are accented by deep bunkers and granite outcroppings that provide definition and challenge. The seamless routing, views, marshes and abundant wildlife enhance a memorable golf course that has received rave reviews since it opened in May 2000.
You can see greenfee's in more detail on the club's web page.
Windermere Golf & Country Club
On Lake Rosseau
1012 Golf Ave
Windermere ON P0B 1P0
Toll Free: 1-888-464-4414
Local: 1-705-769-3381, x 227
General Inquires: 1-705-769-3381
Web: www.windermeregolf.ca


Located in the heart of Muskoka, Windermere Golf & Country Club is a community landmark and delightful destination for all ages. This warm and inviting semi-private club was established in 1919 and offers its Members and guests an authentic Muskoka family club experience.
"In Season" Rates
June 15- September 16
Monday – Thursday : Before 11:00am - $83.00, After 11:00am - $78.00
Friday - Sunday : Before 11:00am - $93.00, After 11:00am - $88.00
Spring and Fall Rates
May 1 – June 14 / September 17 – Close (prime times)
Monday – Thursday : $67.95
Friday – Sunday : $73.00


Grandview Golf Club
245 Grandview Drive North
Huntsville, ON P1H 1B4, Canada
Phone: 705-788-9978
Fax: 705-788-9551
Web: grandview.clublink.ca
Grandview features one of the most impressive of ClubLink's clubhouses. It blends stone and wood and embodies Muskoka's grandeur. It plays host to both weddings and banquets and can accommodate up to 250 people. Greens feature subtle breaks, large elevation changes, deciduous forest, granite and marshland are a few key characteristics. Site of the 2002 Telus Skins Game won by Sergio Garcia over Vijay Singh, John Daly and Mike Weir, Grandview also offers a nine-hole Academy course just across the road.
You can see greenfee's in more detail on the club's web page.
Deerhurst Resort


Reservations: 1-800-461-4393
email: info@deerhurstresort.com
Activity Booking: 1-800-461-4393 option #3
email: info@deerhurstresort.com

Deerhurst Resort has two 18-hole Huntsville golf courses, the picturesque Deerhurst Lakeside, the famed Deerhurst Highlands, and a complete Golf Academy for all ages. Score at Golf's Best Resort Course in Ontario 2011. This landmark course was also ranked #11 of all public golf courses in the province in this year's Score Golf ranking. Other recent rankings include 18th among Canadian golf courses in GolfWeek's April 15, 2011 issue and 6th on Ontario Golf's People's Choice in their 2011 Top 100 courses. With additional tee decks for 2011, this course can be enjoyed by players of all skill levels.
Colingwood, Owen sound Golf Courses
Cobble Beach
For Reservations call 519.370.2173
or 1.888.278.8112 ext. 108
email golf@cobblebeach.com
Web:grandview.clublink.ca
Acclaimed with awards from Golf Digest, Travel + Leisure Golf, Ontario Golf, Fairways and SCOREGolf magazines, Cobble Beach calls to mind the game's legendary seaside locations. Here is golf as it's been played for centuries: links-style, over fairways that run and tumble, to greens sited as though by Nature herself.
18 Holes:
From Course Opening to May 24 and October 1 to Course Closure:
Unlimited Play, all day - $85.00
HIGH-SEASON Monday to Wednesday Only (June 15 – Sept 30):
Before 9 am: $125.00
9 am to Noon: $150.00
Noon to 3 pm: $125.00
Batteaux Creek Golf Club
Mailing Address:
Batteaux Creek Golf Club
Box 145 Nottawa ON L0M 1P0
Physical Address:
7422 Sideroad 30-31
Contact:
Phone: (705) 444-8337
Toll Free: (866) 479-3754
Fax: (705) 443-4267
Web : batteauxcreek.com

Tucked into the Niagara Escarpment between Collingwood and Wasaga Beach, Batteaux Creek Golf Club offers golfers one of the most scenic and playable layouts in Ontario. The club is located 6 kms south of Collingwood, Ontario and 9 kms southwest of Wasaga Beach on the east side of highway #124.
2012 Green Fees:
Friday - Sunday:
18 holes - $86.50
Monday - Thursday:
18 holes - $70.00

Twilight:
Everyday - $52.00
Off season rate:
Everyday until May 17 2012 - $50.00
The Blue Mountain Golf & Country Club
Physical Address:
Blue Mountain Golf and Country Club
706 10th Line
Collingwood, Ontario L9Y 2Y9
JIM MALLEY
General Manager
705-445-3918 (ext 103)
gm@bmgcc.net
Web:www.bmgcc.net

The Blue Mountain Golf & Country Club is an 18 hole semi-private facility located on Collingwood's 10th Line between Sixth Street and Mountain Road. Developed in 1964, it is the longest established course in the area.
Club Features: Picturesque layout designed to challenge all levels of golf enthusiasts, Four sets of tees,Fully stocked Pro Shop, Licensed Clubhouse, Patio and Beverage Cart, Courteous professional staff well trained to meet all of your golfing needs, Lessons available, Practice Facilities, New Power Cart Fleet.
PUBLIC
18 Holes - $75.00
9 Holes - $45.00

GUEST
18 Holes - $65.00
9 Holes - $40.00

Twilight after 2pm - $55.00
Twilight after 5pm - $35.00
Rest of the best
Devil's Pulpit Golf Association

Devil's Pulpit
3035 Escarpment Sideroad
Caledon Village, Ontario
519.927.3001
Devil's Paintbrush
15151 St. Andrews Road
Caledon East, Ontario
905.584.0155
Web: devilspulpit.com
Beautiful course in Caledon Hills, engaging for golfers of all skill. Visualy stunning, and pleasing for all. For golfers seeking to test their game, the Devil's Pulpit Golf Association Open is a 36-hole net tournament with men's and ladies' divisions.

Guest accompanied by a Member – $140
• $95 prior to May 19 and after October 8
• $95 after 3:00 p.m. on weekends and holidays
throughout the golf season
The National Golf Club of Canada
134 Clubhouse Road
Woodbridge, Ontario
L4L 2W2
admin@nationalgolf.ca
Web: www.nationalgolf.ca
The Hamilton Golf and Country Club
232 Golf Links Road
Ancaster, Ontario
L9G 2N5
905-648-4471
Fax: 905-648-4217
Web: www.hgcc.ca
The Hamilton Golf and Country Club feature three nines indicated as the South, West and East courses. Course is designed in 1914 by english golf course architect Harry Shapland. On July 1st, 2011, our short course was reopened after a brief hiatus. The opening allowed 6 brand new H.S. Colt replica holes to be unveiled.
St. George's Golf & Country Club
1668 Islington Avenue
Etobicoke, Ontario M9A 3M9
Tel: 416-231-3393
Fax: 416-231-6432
Web:www.stgeorges.org
St. George's Golf and Country Club is internationally recognized for its championship golf course. This course is regular in the top-100 worldwide and among the top three courses in Canada. Course is designed by Stanley Thompson. Course also hosted Canadian Open tournaments in 1933, 1949, 1960, 1968 and 2010.
Coppinwood Golf Club

Joseph DiClemente
Membership Director
905-649-2800 x126
joseph@coppinwood.com
Web: www.coppinwood.com

Coppinwood Golf Club is spreading on 357 acres. Course is sesigned by Tom Fazio, the par 72 layout features five sets of tees to provide members of all skill levels with an exceptional golfing experience. Grass fairways are framed by blue grass rough and fescue grasses. Subtly contoured greens are inviting and reward well hit shots. Bunkers are minimalist, dramatic, and remarkably consistent in their playability.
Beacon Hall Golf Club
400 Beacon Hall Drive
Aurora, ON L4G 0L3
P: 905-841-9122
webmaster@beaconhall.com
Web: www.beaconhall.com
Beacon Hall Golf Club is exclusive club, located on the Oak Ridges Moraine. Opened in 1988 and is consistently been ranked among the top ten golf courses in Canada.

Westmount Golf & Country Club
50 Inverness Drive
Kitchener, Ontario
N2M 4Z9
Reception 742-2323
Fax Main Office 742-3762
Catering 742-0443
Web:www.westmountgolf.com

Westmount Golf and Country Club is a 160-acre private course designed by Stanley Thompson and located in a prestigious area of Kitchener-Waterloo. Westmount have beautifully maintained championship level 18-hole golf course.
Westmount also offers four outdoor tennis courts. Westmount Golf & Country Club is one of Canada's premier golf facilities, consistently ranking in the top 15 over the last several years.